First Choice by Select Health Plan Members Awarded Scholarships To Pursue Higher Education and Career Training
First Choice by Select Health Keeps a Focus on Social Determinants of Health
December 9, 2019 - North Charleston, SC
Select Health of South Carolina, the state's oldest and largest Medicaid managed care organization and part of the AmeriHealth Caritas Family of Companies, recently awarded five First Choice plan members with scholarships totaling $10,000 to help these students pursue higher education and/or specialized career training. During a ceremony held at the First Choice Community Center in Columbia, scholarship recipients were presented with certificates and enjoyed breakfast with their families.
This scholarship is really helpful," said scholarship recipient Jasmine Tucker, of Lexington, SC, who is pursuing an associate's degree in accounting at Midlands Technical College, as well as an accounting and payroll specialist certification. A mom to a toddler, she is determined to get her degree. "It was such a blessing and a big boost to my self-esteem and makes me feel like I can do this. It creates more financial security and means I won't have to take out a loan this year," she said.
Recipient Jose' Charre-Perales, of Pelion, SC, attending Clemson University this fall, agreed. "This scholarship helps so much," said Charre-Perales. "It helps make it feel more realistic to get a college degree. It's really a lot of help for our family. My mom is so proud."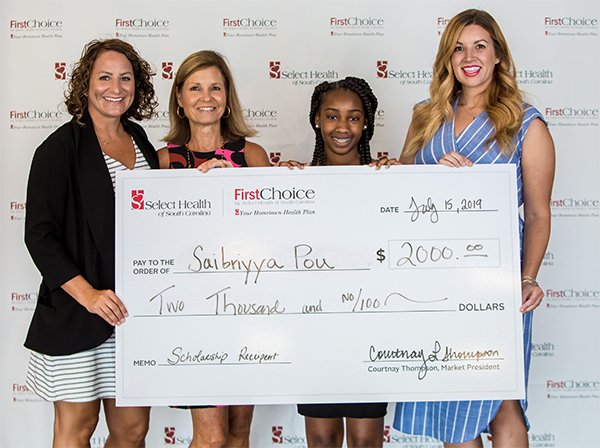 Taren Daniels of Lexington, SC; Gabrielle Myers of Conway, SC; and Saibriyya Pou of West Columbia, SC rounded out this year's awardees.
"Helping just one person pursue a college education can uplift an entire family, or even a community," said Courtnay Thompson, market president at Select Health. "We're always excited to receive scholarship applications because there are so many First Choice members excelling in school and doing wonderful things in life."
The annual First Choice member scholarship program is open to all First Choice members. Select Health offers the First Choice Medicaid health plan to eligible South Carolina residents. The scholarship program began in 2010 when Select Health pledged $200,000 over 10 years through its Caring10 initiative.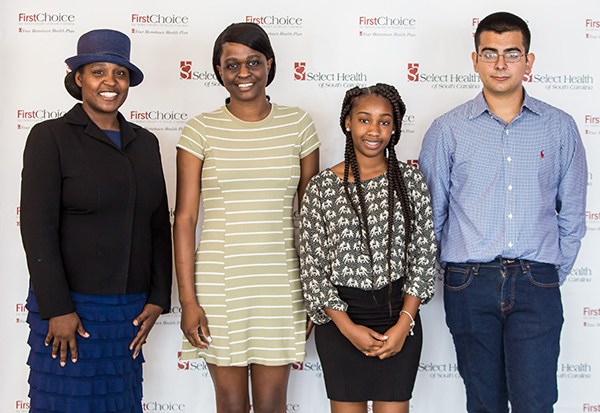 First Choice by Select Health is now accepting applications for scholarships to be awarded in 2020. The application deadline is March 5, 2020. Complete information about this scholarship program is available at www.selecthealthofsc.com/community/member-scholarship.aspx. In addition to the scholarship program, First Choice by Select Health addresses social determinants of health in a number of other ways, with a special focus on education, to help communities throughout the state of South Carolina improve health outcomes and overall quality of life:
Mission GED: First Choice by Select Health has provided test vouchers to 272 of its members in an effort to help them earn their GEDs. To date, 23 plan members have completed their GED through this program.

Jump-Start Back-to-School: Every summer, Select Health provides area school children in grades K though 12 with no-cost backpacks filled with school supplies, back-to-school information, health screenings, no-cost haircuts, and more across the state. The annual event has served more than 15,000 families in the last 11 years.

Reading Assistance Services (PDF): First Choice members can take part in adult literacy or limited English proficiency programs aimed to help them read and write.

Summer College Internships: First Choice offers a number of paid summer internships to college students. Selected students gain an understanding of Select Health's mission and vision, obtain hands-on experience, and receive training for their professional development.

SC Thrive: The First Choice Community Center in Columbia collaborates with SC Thrive to help members access food assistance, student aid, tax filing help, and more.
Please visit www.selecthealthofsc.com or call 1-888-276-2020 for more information.