Your ID Card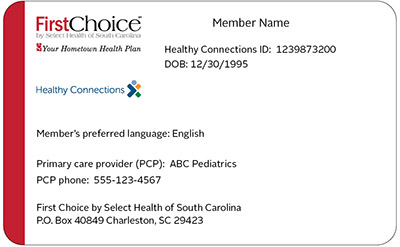 Always carry it with you.
Every member of First Choice by Select Health of South Carolina has a First Choice ID card. If you have not received a card or if it has been lost, please call Member Services toll free at 1-888-276-2020. We will mail you a new card.
Your First Choice ID card is very important. You should carry it with you at all times. You must show your First Choice ID card along with your Healthy Connections ID card whenever you get services from doctors, hospitals, pharmacies, and other First Choice providers. Do not let anyone else use your First Choice ID card.
What's on Your ID card?
Name
Healthy Connections ID number
Date of birth
Preferred language
Primary care provider's (PCP's) name
PCP's phone number
Lost your ID card? Log on to the member portal to order a new one.